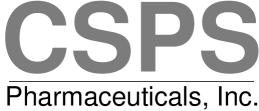 ---
DO YOU WANT TO DISCOVER NEW DRUGS FASTER THAN GLAXO AND MERCK WITHOUT SPENDING MILLIONS IN AUTOMATION?
IF YOU DO, THEN YOU NEED:
MULTIBLOCK -- Instrument for Multiple and Combinatorial Synthesis
MULTIBLOCK works in big pharma laboratories (Astra, Bristol Myers, Ciba, Glaxo, E. Merck, Merck Frosst, Novo Nordisk, Organon, Rhone Poulenc, Sandoz, Searle, Takeda, Wyeth Ayerst...), small biotech companies (Amylin, Medivir, Peptor, QCB, Zymogenetics...), and academia (Universities of Louisville, Rhode Island, Utrecht, Stanford...) all over the world (Canada, Colombia, Czech Republic, Denmark, England, France, Germany, Israel, Italy, Japan, Korea, Netherlands, Singapore, Sweden, Switzerland, U.S.A....).
48 REACTOR VERSION WITH REFORMATTING ATTACHMENT FOR DIRECT TRANSFER OF PRODUCTS INTO MICROTITERPLATES IS NOW AVAILABLE !
Brief Description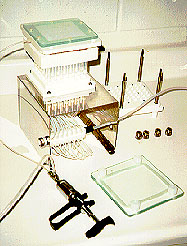 The synthesizer (Fig. 1 and Fig. 2) consists of four parts:
A teflon block that holds 48 (42 reactor version discontinued) reactors, polypropylene syringes equipped with plastic frit;
(Krchnak, V., Vagner J.; Peptide Res. 3, 182 (1990));
A vacuum adaptor that connects each reactor to vacuum line and serves for fast washing under continuous-flow arrangement;
Two teflon plates with 48 (42 reactor version discontinued) stoppers to which the teflon block is attached during deprotection or condensation reaction;
Glass cover used in the randomization step. You can use various coupling reagents, resins,protecting groups in the same run of multistep synthesis. Reactions can be performed in the incubator under elevated temperature, or even in ultrasonic bath (see e.g.Vagner, J., Kocna, P., Krchnak, V.: Peptide Res. 4, 284 (1991)).
For more information about the use of MULTIBLOCK we recommend the reading of the User's Manual.
---
| Back to CSPS Pharmaceuticals Home Page |
---

This page has been seen

2990

times since Mon May 16 06:57:12 2022

Last Modified: Thursday, January 07, 2010
For more information contact zuzana@5z.com